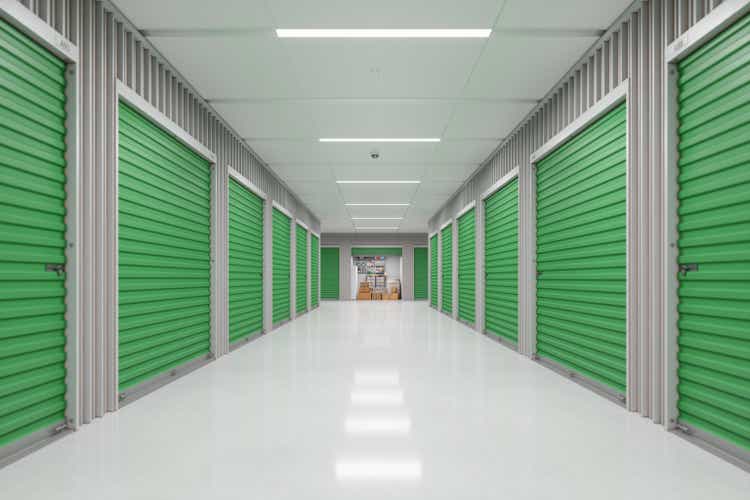 Public storage: safe track record, but favorites return 4.1% (NYSE: PSA)
introduction
As part of my fixed income portfolio, I try to keep an eye on new preferred stock issues. I find these can be a nice addition to such a portfolio and although preferred stocks are obviously still stocks and rank below owning bonds and notes, they rank above stocks ordinary. In most cases, the decision to invest in preferred stocks comes down to balancing risk/reward. In the case of Public Storage (PSA), the benefits of the 4.13% Current Yield Preferred Share Series R (PSA.PR) must be weighed against the 2.3% Yield Common Stock which offers also additional capital gains. On the other hand, preferred stocks offer more "certainty" in the long run, but that doesn't mean it's always the best decision.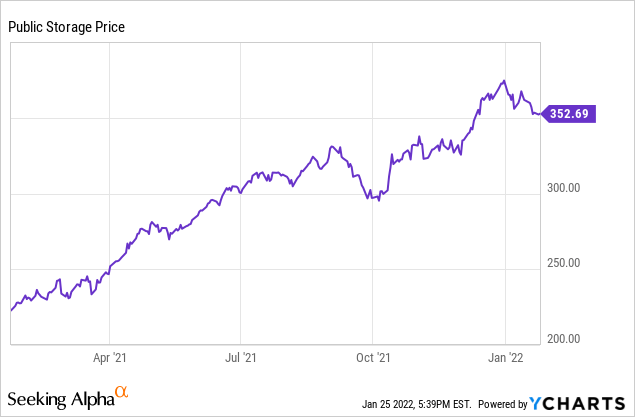 An overview of Public Storage performance and track record
Public Storage continues to grow at a very rapid pace, with the REIT's third-quarter revenue of nearly $900 million, up from $735 million in the third quarter of 2020, while total revenue from the nine first months of 2021 were slightly lower at $2.5 billion, double that. percentage increase in numbers over revenue of $2.17 billion in 9M 2020.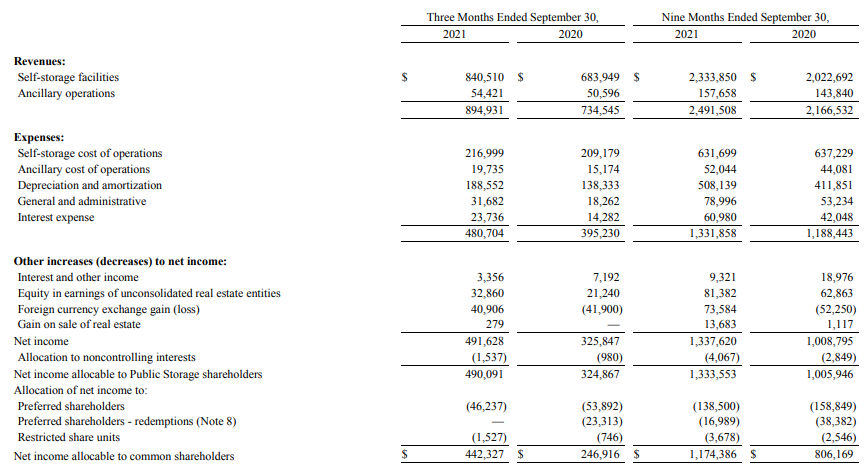 What really matters for a REIT is not net income, but FFO per share, as this is a much better measure given that it excludes non-cash expenses such as capital expenditures. amortization. As these amortization expenses tend to exceed $800 million per year (including the impact of a recent acquisition), it is clear that reported net income has traditionally been hit hard by these non-cash expenses.
Public Storage provides the FFO calculation in its financial statements, and as you can see below, total FFO attributable to common stock was just over $635 million in the third quarter. That's just over $3.60 per share.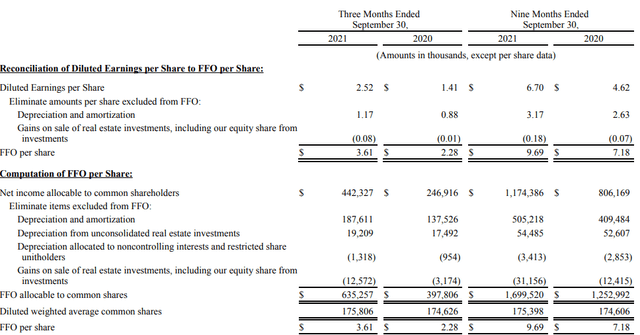 Importantly, the $635 million already includes the impact of preferred dividends, which cost the REIT more than $46 million in the quarter. This means that the preferred dividend coverage ratio was nearly 1,500% in the third quarter. It's obviously excellent. Even if the FFO of the Preferred Dividends were to decrease by 80% (to be clear this is just to give an example, this is not a scenario I would expect at all) the Preferred Dividends would still be more than fully covered by a coverage rate of just under 300%. Preferred dividends therefore seem very safe.
Now that we have established that preferred dividends are safe, we also need to look at the balance sheet to verify the level of asset coverage.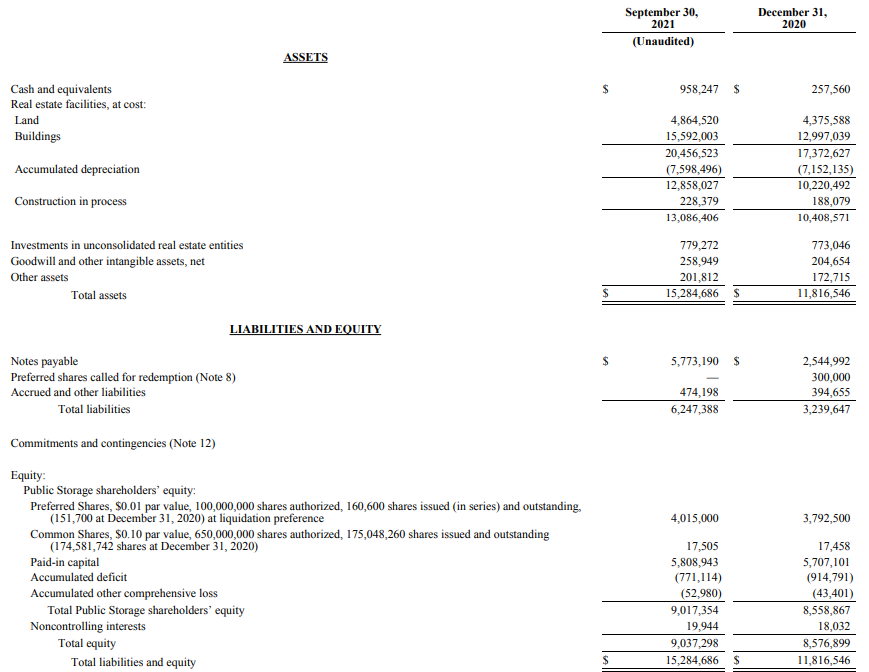 We find that the balance sheet total is approximately $15.3 billion, of which just over $9 billion is equity.
At the end of September, there were just over 160 million preferred shares outstanding, with a combined net worth of just over $4 billion (note that Series R preferred shares and other Preferred shares issued after September 30 are obviously not included in the table below.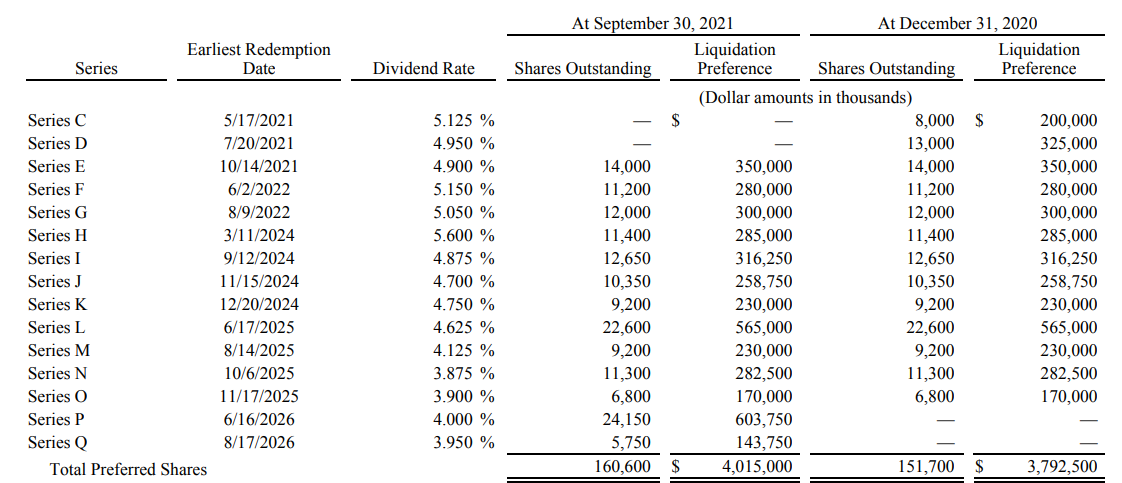 Although the $9 billion in equity is already more than enough to cover the $4 billion in preferred shares outstanding, keep in mind that the $9.04 billion in total equity includes accumulated impairment. nearly $7.6 billion in assets. So if one calculated the equity using the acquisition cost of the assets and deducted the $259 million of goodwill, the tangible equity would be approximately $16.35 billion, which means that the ratio coverage of preferred equity assets would be approximately 400%.
Recently Issued Series R Preferred Shares
In this article, I wanted to take a closer look at the Series R Preferred Stock issued by Public Storage in November of last year. The company issued 17.4 million preferred shares at $25 for gross proceeds of $435 million while the underwriters had an over-allotment option to place an additional 2.6 million shares for a maximum of $20 million. preferred shares.
The preferred shares were issued with a dividend yield of 4%, meaning the $25 securities have an annual dividend of $1, divided into four quarterly installments of $0.25. At the current share price of $24.24, the yield is approximately 4.12%.
This wasn't Public Storage's only recent issue as the company issued another round of preferred stock in January, this time with a preferred dividend of 4.10%. This series is currently trading at $24.89 for a very similar yield. These new issues of preferred shares will help maintain a strong balance sheet after the announcement of the proposed acquisition of All Storage, but it is also a good test to ascertain the market's appetite for these securities. In 2022, PSA will have the right to call $280 million of preferred stock with a 5.15% preferred dividend and $300 million of preferred stock with a 5.05% dividend. If PSA were able to refinance these "expensive" preferences with newly issued preferred stock yielding 4.1-4.3%, the company could easily save a few million dollars a year in preferred dividends, which would benefit common shareholders.
Investment thesis
I think PSA management is doing an absolutely excellent job guiding the REIT on a path of continued growth without stretching too much. I also believe that issuing preferred stock at current rates of 4-4.2% will prove to be a great long-term move, as it should be considered perpetual equity with a cost of equity of one just over 4%. The company has the right but never the obligation to repurchase these securities so if we are heading towards a normalization of interest rates there is absolutely no reason for PSA to repurchase the preferred shares at par. Additionally, preferred stocks offer an excellent pair to maximize FFO for common stockholders.
This brings me to the next point. Even if I ruled out my desire to generate a capital gain – after all, I'm looking for a safety net for my income portfolio where income and income reliability are far more important than potential capital gains. But it also means that I should avoid potential capital losses. In the scenario "the market" demands a 5% preferential yield from PSA (which for example could happen when interest rates rise), the Series R preferred stock will drop to just $20 and it I would need more than four years to recover this drop in the form of preferred dividends.
PSA is a great example of a well run REIT, but at this point I'm not too keen on going to buy a 4.1% preferred stock. I'll keep an eye on Public Storage preferred stock, as higher market interest rates would erode the value of preferred stock, which could make them more attractive. It also depends a lot on your personal tax situation. In my personal case, as a foreign investor, I would have to pay around 35-45% on preferred dividends and that also plays a big role in not taking any positions.