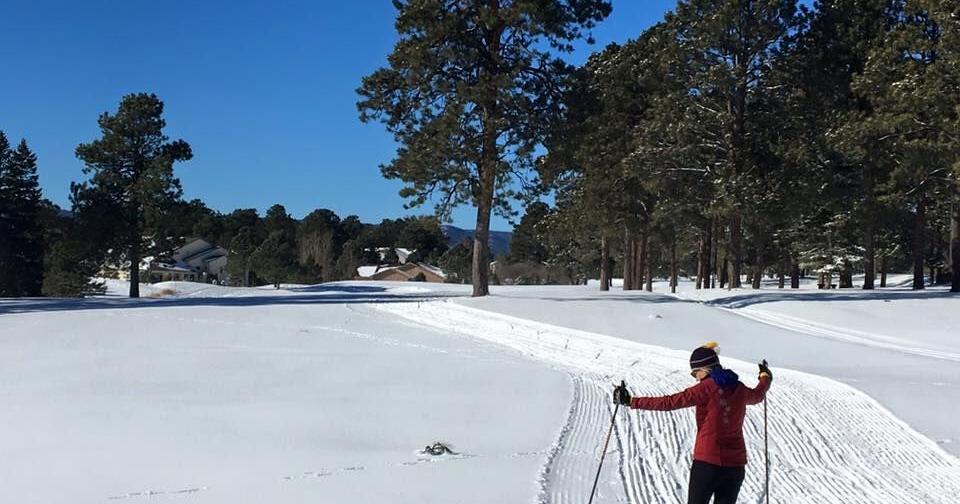 Woodmoor Nordic Achieves Non-Profit Status to Begin Seventh Season | The gallery
WOODMOOR • As the snow begins to clear its way into the winter season, Woodmoor Nordic anxiously awaits a decent snowfall to reopen the trails under its new non-profit status.
Woodmoor Nordic creates and maintains five classic cross-country ski and skating trails and eight kilometers of snowshoe trails for a variety of ages and experience levels over 12 kilometers at Woodmoor Country Club during the winter months. It also offers courses for adults and young people and offers equipment rental in its shop.
The company's first operating season was the 2015-16 season, which President and Founder Michael Brothers says remains the center's best snowfall year. However, given the capricious nature of the Front Range's winter conditions, Woodmoor Nordic one year might be open and clean the ski slopes for several months, while another year might only provide snow opportunities for a few weeks.
Brothers said that it takes a lot of work to prepare and clean the trails, and because of that he has assembled a group of Nordic enthusiasts who have agreed to volunteer to sit on the Woodmoor Nordic board. Woodmoor Nordic recently changed its status from a for-profit to a not-for-profit, so anyone who purchases a season ski pass, now known as a Woodmoor Nordic membership, has the option of amortizing expenses in the event of winter snowfall year round and the ski season is shorter than expected.
In addition, the non-profit status allows the organization to apply for grants to fund new grooming equipment, additional rental equipment, and to cover operating costs, as well as providing more opportunities to the community to try the sport, Brothers said.
Brothers initially started Woodmoor Nordic as a limited liability company, but learned that it was difficult to run a for-profit Nordic ski resort in the Front Range, he said. The business broke even or lost money. For the winters that proved profitable, all the profits were used to purchase new equipment and to finance gasoline costs.
"If I hadn't been a retired military man and a ski fanatic, I wouldn't have tried it," Brothers said. "Considering the volunteer aspect of the business, it made more sense to become a non-profit organization. "
Woodmoor Nordic is and has been a volunteer run organization. Its board of directors has completed and submitted its nonprofit organizational documents to the IRS, which was approved in August.
If you're interested in getting involved, the organization is always looking for additional help, Brothers said – especially someone or people who could help with advertising, marketing, and grant writing.
The organization also has a group of volunteers who get involved to help shovel areas covered with thin snow to keep the trails in the best condition possible. In return, the volunteer hours at Woodmoor Nordic are compensated by a reduction in the price of the Woodmoor Nordic membership for the following season.
Brothers was a Nordic skier and competitive biathlete who raced in high school and college, where he won the college national championships, and later represented the United States at seven military ski world championships, national championships Americans and at the Masters World Championship. Plus, he struggled to make the 2002 US Olympic team, and narrowly missed. Before retiring from military service, Brothers coached the US Air Force Academy Nordic Ski Team.
"Cross-country skiing is phenomenal aerobic training and a sport that you can continue to enjoy even as you get older," Brother said.
He said traveling to and from the mountains to ski in larger Nordic resorts could provide enthusiasts with longer ski runs and more consistent snowfall, but it comes at additional expense in time and money. When Woodmoor Nordic has the snow it needs along with a decent winter, its trails can be just as good and the cost is much lower than hill stations.
For updates on Woodmoor Nordic and whether and when trails are open, grooming status and snow conditions, information is available from the public Woodmoor Nordic group on Facebook. The page also provides details on ski and snowshoe rental reservations, lessons and trail maps.
Brothers said when the company's Facebook page started it had a few dozen members who found it through word of mouth. Currently, it has more than 1,100 members, most of whom are experienced cross-country skiers who are tired of the commute and traffic associated with backcountry skiing in the mountains, he said.
"We have hundreds of skiers who choose to ski locally when conditions allow us to prepare for ski slopes," Brothers said.
The organization's website is in preparation. Once completed, you can find it at www.WoodmoorNordic.org.